Vultr is uniquely positioned with 15 datacenters strategically placed around the globe to bring our cloud close to major city centers around the world. The Vultr platform allows you to easily implement a cloud infrastructure with the click of a button.
Vultr has made it their priority to offer a standardized highly reliable high performance cloud compute environment in all of the cities we serve. Launching a cloud server environment in 15 cities around the globe has never been easier!
1. Get $100 free credit for New Account (HOT)
Register your account and receive $100 free credit for trial. This promotion is available for a limited time, so act fast before it's too late!

Combined with "Get $3 when you connect Twitter to Vultr", you get a total of $1033 FREE Credit
2. Get $3 when you connect Twitter to Vultr
Just sign in to your Vultr account, click and you will receive an additional $3 from Vultr.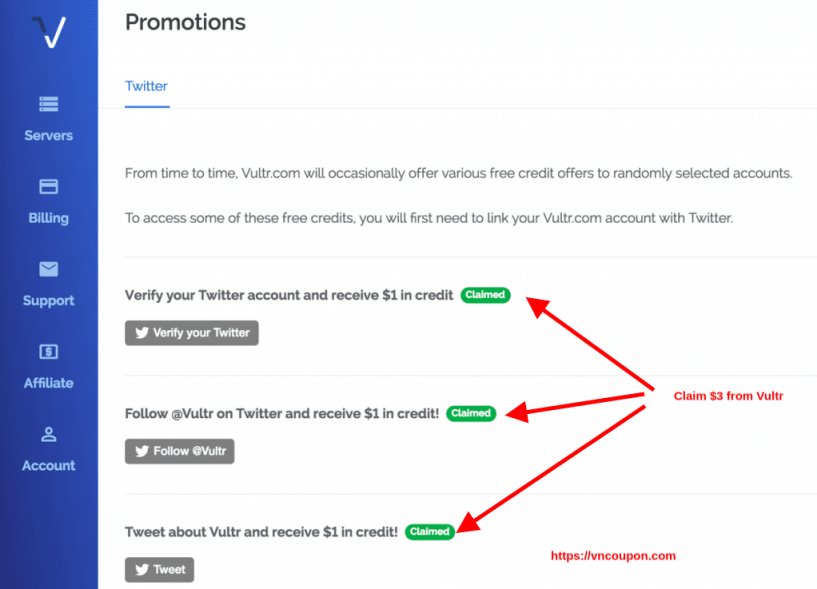 3. Get $5 free credit for New Account to try Vultr Services
Click below links and register your account and receive $5 free credit for 60 days.
Vultr's Cloud Services
+ 100% Intel Cores: Latest generation Intel CPUs guarantee consistent performance.
+ Infinite OS combinations: Deploy CentOS, Debian, Ubuntu, Windows, FreeBSD, (and more!) or use our Upload ISO feature.
+ Root administrator access: Full "root" access and a dedicated IP address included with all VMs.
+ No long term contracts: Spin up and spin down with ease and pay only for the hours you use our platform.
+ Powerful API: Integrate with our API to quickly spin up, destroy, and control your instances.
+ Feature-rich control panel: Many features are available with one-click: Restart, Reboot, Reinstall, Reimage, View Console and more!
Vultr's Cloud Locations
Vultr Compute is available in 15 locations worldwide, spanning North America, Europe, Asia and Australia. And best of all, getting your hosting infrastructure closer to your customer base does not require any long term contracts. So, what are you waiting for? Deploy servers on 4 continents with just a few clicks!