Do you want to know how to do keyword research with Semrush. Keyword research is one of the first and most crucial steps in any search marketing campaign, organic or paid. To drive search engine traffic, whether through organic search or paid search advertisements, you need choose the right keywords. There are many keyword tool for SEO, and this article will refer keyword tools to help you find right keywords.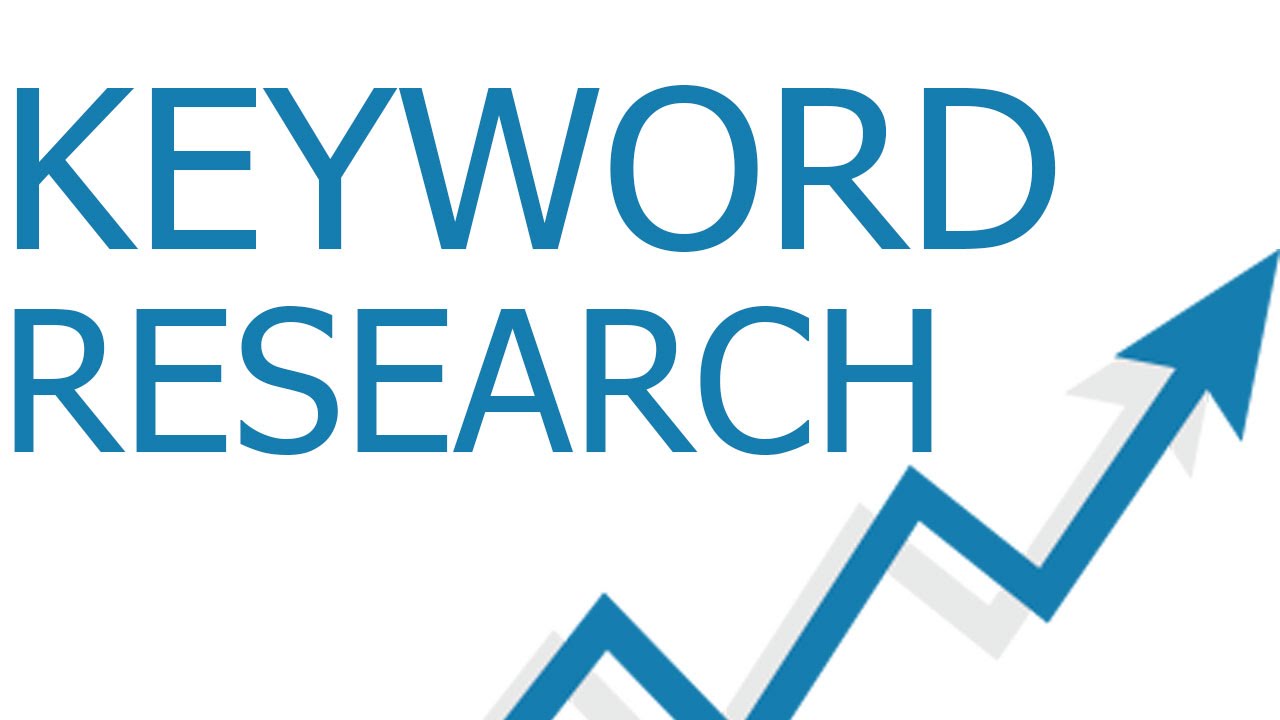 What are keywords and why are they important?
Do you know what keywords your website is currently ranking for online? Keywords are very important for every business website as they drive targeted web traffic to your business for free. When done well, using the right keywords can skyrocket your business to sales success online.
Before we get into the details of what you need to do to rank effectively for certain keywords, some of you might be wondering, "what is a keyword?"
Keywords are the words and phrases that Internet users type into search box of a search engine, such as Google, to find what websites that match what are looking for.
Some keywords get hundreds of thousands of unique searches a day while others get a couple of hundred. At the same time, some high trafficked keywords are very competitive online because many businesses are trying to get referrals and traffic from users when they search for those keywords while others are not.
Keyword research is the process of finding the right keyword for your post. This step is important if you wish to grow your website in a short span of time and ultimately make money. There are various ways by which you can find keywords and do keyword research.
See more: Best search engine ranking checker tool
How to use SEMrush to do research keywords.
Trial SEMrush Pro For FREE
I highly recommend SEMrush for keyword research and competitor keyword analysis. It's reliable, accurate and all the data you need in most niches. You can try it FREE FOR A MONTH by following the link below:
For this process, we're going to use SEMrush (you get a free trial for 30 days with above link), an all-in-one suite of digital marketing tools popular among professional SEO. It includes almost every tool you'd need to manage a successful organic online marketing campaign.
Before we begin, go to the SEMrush and register for free, if you don't have an SEMrush account yet.
Once you're logged in, use links in the left side column, scroll down to Keyword Analytics section and click Keyword Magic Tool: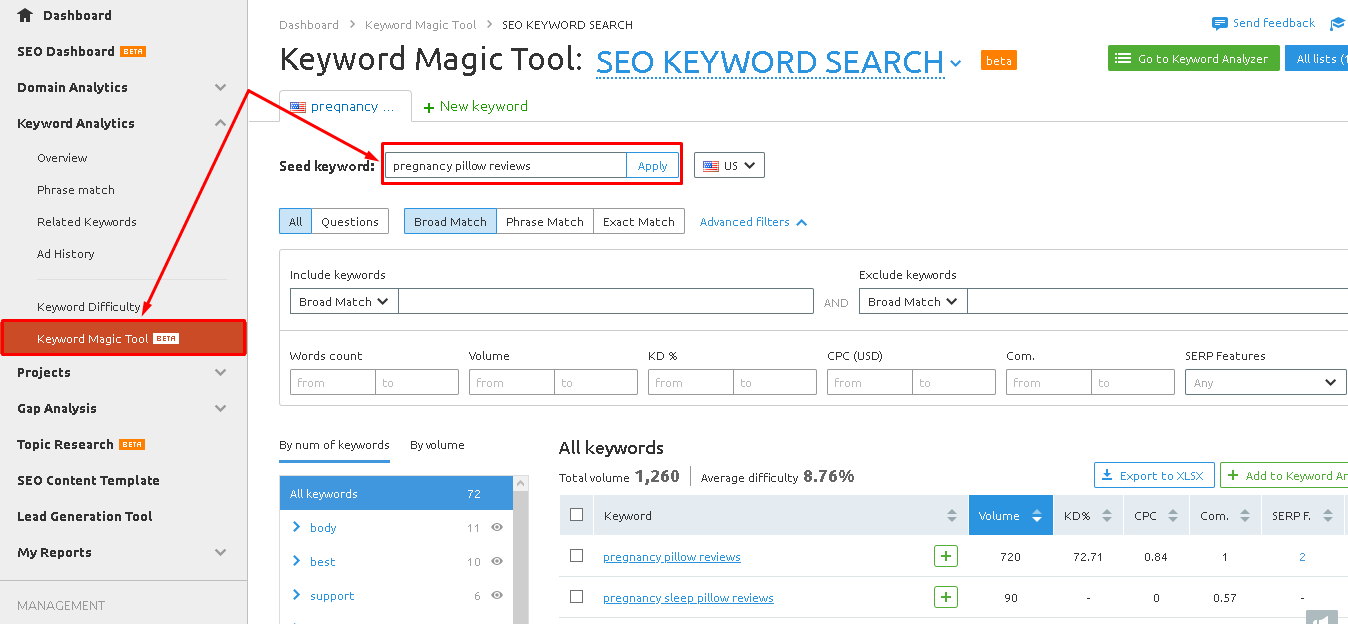 To begin, think of any terms or topics describing what your business offers.
If you run a niche site relating to pregnancy pillow, these topics could include "pregnancy pillow review" or "pregnancy body pillow" for instance.
Note: You will notice two more options inside the search box, one says (Seed keyword) and the other lists a region.
The first of those options denotes the tool currently being used – keyword research.
The other allows you to specify what regional search engine you want to see the results from. Even though you reside in one country it does not mean that you can't retrieve search data from another. This option allows you to specify that.
Once your hit Apply the tool will display an overview of various data on a theme you have selected. The above example of niche site with seed keyword "pregnancy pillow".
Let's look at the information that important to keyword research in the report:
As you can see, apart from the list of keywords the tool also displays information that can help me better assess those keywords:
Traffic Volume.
Average CPC.
Competition Density.
Of Results.
Trend
It also lets me see the cached SERP (search engine results) page for each keyword.
By analysing this data you can assess which keywords might be worth targeting your SEO efforts.
How To Work Out Keyword Difficulty
SEMrush's Keyword Difficulty tool allows you to find out how difficult it would be to seize a competitor's positions in search rankings for a given keyword. This is all relative, and a propriety calculation by SEMRUSH – it's never going to be exact – so use the data it provides accordingly.
The tool analyses other domains ranking for a keyword and gives a % estimate of how difficult a keyword is to rank for.
Here's the result of analyzing a "pregnancy pillow" keyword.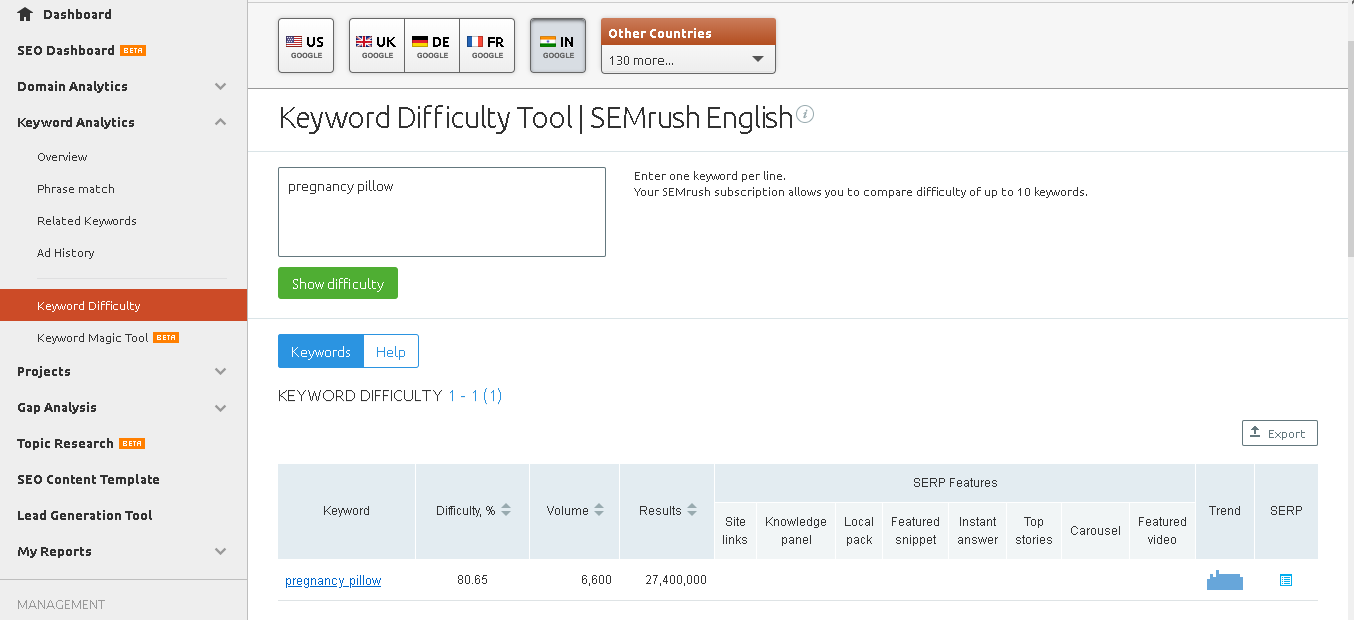 As you can see, these keywords are quite competitive. Don't get discouraged by such results. Instead, use it to estimate and plan your SEO strategy ahead.
To use the tool, go to Tools section in the left side column and click on Keyword Difficulty.
Type one or more keywords into the Keyword Difficulty one keyword per line and click "Show difficulty"
Once you have found profitable keywords, your task is to write an SEO-optimized content writing for your target keywords.
Want to create content that ranks on page one of Google? Check out the SEO content template from SEMrush
How much does SEMrush cost?
SEMrush offers three monthly subscription options: Pro for $99.95, and Business starting at $399.95.
All three are recurring subscriptions. You can purchase a monthly subscription, and it will bill automatically on the same calendar day of every month; or you can choose an annual plan, and pay yearly.
You can also sign up for a free subscription with limited access. After registering on our website, you will get a free account that allows you to make 10 requests in SEMrush per day. With a free subscription, only 10 results per report will be displayed. You can upgrade your account at any time.
Meta titles, meta descriptions, and headings:
Now that you have a perfect keyword to target, and you are writing a great post around it, try to also use that keyword as part of the title of the post. By default, this title will also be the title shown in search engines (i.e. the "meta title").
You can also write a description for users to see when they look at your site in a search engine (i.e. the "meta description"). Adding in a relevant meta description will also give more insight about your page/post to search engine bots. We suggest you use your keyword in the meta description as well.
Note: You can write meta titles and meta descriptions using an SEO plugin like All in One SEO.
Also, try to write more SEO-friendly articles by using H2 and H3 tags (your title is H1 by default in WordPress). However, don't overuse heading tags, as keyword stuffed headings and too many heading tags can lead to a negative ranking.
Conclusion
Now that you are aware that keywords play an important role in SEO, your first task is to find 5-6 profitable keywords for your next post. We think you will know the way to do keyword research. Doing so will go a long way in ensuring that you choose the right keywords for your new site, thereby guiding your content strategy, increasing your ranking with search engines and edging you closer to success.
Please share and tag your friends who you think they'll like this post. I greatly appreciate your kindness!