Free wordPress blog installation Service will give you a WordPress install, configured and ready to run on your choice of hosting service.
Experience has shown us that many people like the idea of a cheap, attractive and simple to use blogging platform but find the install and configuration process daunting. We follow WordPress best practices, especially in development and security to provide you at a price that you can afford with a top-notch service.
We recognize that it's impossible to have a 100% secure website, but we try to make it harder to break and we help you to keep your investment safe.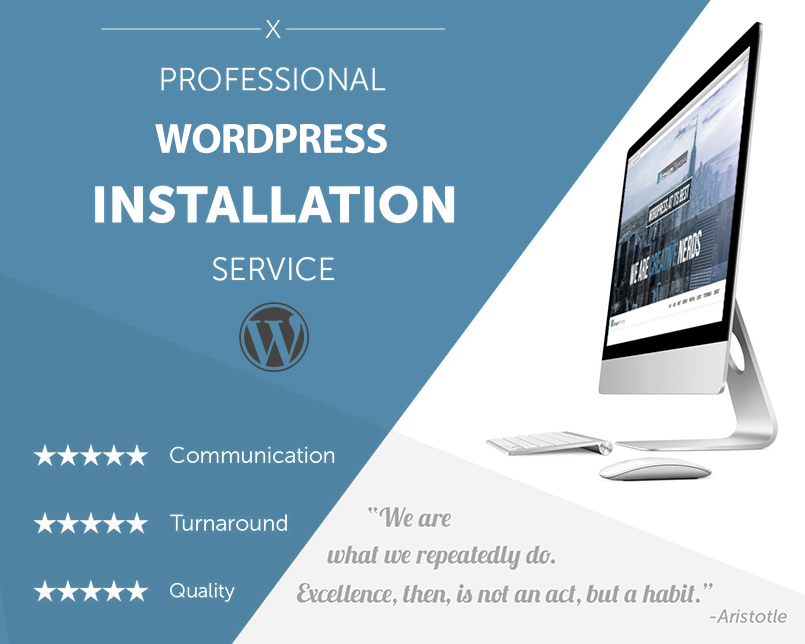 WordPress installation service cost
You have 2 options on our service:
1. Free wordpress blog setup service: In order for us to provide this service, you must sign up for VPS Vultr through our affiliate link, Vultr. When you do this, we receive a commission, which enables us to fund our blog installation and setup service without having to charge you a penny.
3. WordPress installation service $29: In order for us to provide this service, you can purchase domain and hosting anywhere you like, but we recommend for the first option.
As well, you will get a gift of premium theme from our service: Generis Child Theme. These are best themes for earning from affiliate marketing.
All we request to get hosting from the listed Hosting Provider companies. These are best for Web hosting of WordPress sites and offer quality services. If you buy from them by following links then we will get the commission from their affiliate program. Do not use any external link or coupons to get affiliate's commission for us.
After signup with the hosting company, please contact with us!
Note: please use real email address – A real working email address that you check every day! I will email you one time with any questions and make sure we can communicate, if it bounces back I will not try again. (Yes there are people who have paid for and have a blog but don't have the login information or know how to use it.)
If everything is ready you will then get a PayPal payment request before I get started.
WordPress installation steps
Here's what you will get:
Your content
A lot of the theme setup services use demo content that comes with the theme. What you don't know is that the demo content can be setup in just five minutes – ask any theme developer.
Forget about that, because we will work with your content. We will put everything together for you so you don't have to waste time editing it after the setup is done.
Quick turnaround
The full WordPress theme setup usually takes from two to seven days or more depending on your theme and your requirements and how promptly you send us your information.
Plugins Installation
We will install the most popular and the best plugins that will help you with a wide variety of features. We will install almost any free plugin like Contact Form 7, Social Media, Google Analytics, Yoast SEO Premium and more. Need a particular plugin installed? Let us know.
SEO ready
We configure it with up to date SEO best practices and plugins already in place. That means your website is ready for search engine optimization by the time you start blogging and adding content.
This will you ready for the next phase of SEO. Contact us for our ongoing WordPress SEO services that includes link building, keyword research and more.
Of course, you can take the time to do all this yourself for free, and your hosting account may even offer automated WordPress installation from within the control panel. In fact, installing WordPress isn't really the hard part. The hard part is learning how to customize WordPress, configure and use it, and then choosing and configuring all the right plugins. This could take weeks if not longer to figure out.
Your satisfaction
We will work with you until your page is up to your liking.
Our experience
We have more than 10 years of experience in web design and development and more than five years creating custom WordPress solutions. With us, you get the quality you deserve!
Remember this is not an automated service so make sure your email address is valid or I will not be able to contact you with any questions!
Important Information!
I usually reply to all orders within 24 hours. If you haven't heard from me in a day it is probably because my autoresponder didn't forward the information you just submitted to me. If you haven't heard from me in a day please Click Here Now and send me an email to get things started.
Thanks.