Why to get a payoneer prepaid mastercard
How To Open and Use PAYONEER PREPAID MASTERCARD? If you are not sure whether Payoneer is the right payment platform for you or not, you have come to the right place. In today's post, We will discuss everything you need to know about Payoneer. After reading this in-depth Payoneer Prepaid MasterCard, you will know how to get started with Payoneer, how to receive and withdraw money, what charges you have to pay, and so on.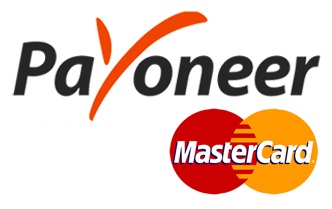 If you want to earn from affiliate marketing, you will face the problem of receiving and sending payments on internet. This problem is perhaps one of the biggest problems that exist on the internet. Most people that live in the United States, Canada or the United Kingdom do not face such payment problems, but the others, they do.
If you are an Internet Marketer, then you must to have an Payoneer Account, to receive payments for your online jobs, with Fiverr, Freelancer, or for your products or comisions from ClickBank, Amazon, etc.
Receiving and sending payments on the internet is something that is more of a necessity. Anyone on the internet can connect to you and tell you about the work details. In fact, they can even tell you about the payment details that they need but there are a few problems that are faced by a normal person. The first one is obviously the fact that the payments that you receive online are way too little and lot of them together can make up a good earning for you. But, when you get them separately from client to client it just worsens the process. Each transaction gets tax deducted from it and that way you end with little or no amount at the end.
Well, that problem was solved easily with Payoneer Prepaid Mastercard. With just a Payoneer Mastercard, you can get the most out of your growth and can solve your problems very easily.
Let's get started with a brief introduction to Payoneer.
Payoneer is the best way to be paid by employers online, and you can withdraw money from any ATM or you can transfer the money directly into your bank account.
HOW TO OPEN PAYONEER ACCOUNT
It is very simple to Open Payoneer Account.
Once you have signed up, you can apply for the Payonner Prepaid Mastercard. If everything is okay, your request will be approved. You will receive a card to your mailing address. After receiving the card, you need to activate it. The card will come with step-by-step instructions about the simple activation process.
At this moment, these cards are valid for three years. Payoneer will remind you three months before the expiry date. You will receive the new card without any extra charge.
Get payment with payonner mastercard
To receiving payment from affiliate marketing, you insert your Payment information of Payoneer. Remember that you choose United States at item country.
Payoneer offers a number of ways to withdraw money from your account. Now that you know the options for receiving payments, let's check out the available withdrawal options.
This is the easiest and most convenient way to withdraw money from your Payoneer account. Local bank withdrawal enables you to receive money in your local currency in 150+ countries around the world. You can expect to get the money within 2-3 business days.
MAKING PAYMENTS
There are several ways to pay with Payoneer. Here are some of the ways that you can use to make payments.paid mastercard
If you are a blogger or an affiliate marketer, you can use Payoneer MasterCard to buy web hosting/domain name, purchase services from freelancing sites like Fiverr.​
PAYONEER FEES
Since Payoneer is providing financial services, they apply some charges. However, creating the account is free. And if you sign up by using an affiliate link, you will get a bonus too.
Let's get started with the fees of receiving payments. Receiving a payment from another Payoneer customer is free. When using local bank accounts in USD, you have to pay a 1% fee. Using other local bank accounts don't involve any charges.
If you are getting paid through a credit card, there is a 3% fee. And when receiving money from various freelance marketplaces, ad networks, or other sources, the rate depends according to the source.
Next, let's find out what are the fees for withdrawal. When you are withdrawing the money to your bank account in local currency, the fee will be up to 2%. And if you are withdrawing the money in USD, EUR, or GBP, the fee will be a flat 1.50 for all of these currencies.
There are some other fees related to the Payoneer Card. First of all, ATM withdrawals will cost you $3.15 per transaction. There are $1 fees in case of ATM decline, or ATM balance inquiry. The annual charge is $29.95, and you can get a replacement card for $12.95.
PAYONEER MOBILE APPS
Payoneer has dedicated apps for both Android and iOS. The mobile apps allow you to track the payment history of your account. You can check out the current account balance in 20+ currencies.
As the apps support more than 19 languages, it is possible to track your account in your local language.
CUSTOMER SUPPORT
There are several ways to get customer support from Payoneer. First of all, you will find several video tutorials that provide answers to some of the most common questions.
The dedicated support center includes written answers to all the common questions. You can explore the different categories or search for a specific topic. There is a dedicated forum too.
If you can't find your answer on any of those sources, you have several other options – send them a message, start a live chat, or make a phone call. The live chat is not available in 24/7.
CONCLUSSION
As you have seen from the discussion above, Payoneer Prepaid Mastercard makes it very easy to accept payment from your clients and various companies. The simple withdrawal options and the prepaid card are other reasons behind the immense popularity of this global money transfer company.
So, what do you think about Payoneer? Does it offer the money transfer option you are looking for? Let me know in the comments below.
Please share and tag your friends who you think they'll like this post. I greatly appreciate your kindness!