PTC sites is the easiest way to earn online without investment by clicking ads or links provided, because you don't require any technical skills to do this job.
Are you curious in knowing how to make money with paid to click sites, it is a very simple process. Remember that 99% from PTCs sites are scam or will be scam in a few months. Therefore, you should register a free membership account with these sites recommended in the list of paying ptc sites.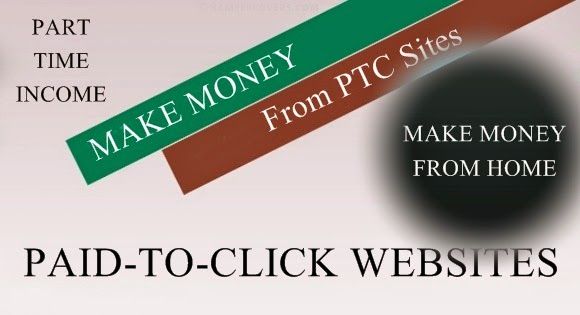 For joining PTC sites (we will need)
A personal computer / Laptop.
Speed internet Connection with No Proxy.
Gmail account (recommended) / Another email account.
Remember, use only one account per computer per IP "Do not create multiple account if you do not want getting banned from PTC that you follow.
Bank account "to withdraw all your earning". Payment processor Account: Skrill, or Perfect Money, ect.
Remember, Internet is full of scammers (Instructions for safety)
Always use a strong password in PTC; a long password made up of numbers, lower/upper case letters, symbols etc (a password that you haven't used in any other site)
Don't share your password with anyone else
Never use your browser to save your passwords. If you are using passwords that are difficult to remember, you may try using good password managers. There are many free password managers available online. Go through the reviews before installing them.
Use a good Anti-Virus/Anti-Malware software and make sure that your system doesn't have Trojans, Spywares etc
Use only legal licence. Dont invest in cheap PTC site not having licensed script
Use for investing only Skrill
How to Work?
After successful registration, login to your account and go to View Advertisement Section. In that page you will see the list of available ads to watch.
Just click one link at a time and it will be opened in a new browser. Wait until the timer or scroll bar ends and the browser automatically credits the money into your account.
Once you got the reply from the browser, close the AD Window and come back to the advertisement page and view next ad.
Repeat this process until watching all available advertisements. For each and every ad you are viewing you will receive between $0.0001 USD to $0.01USD depending on the length of the AD.
Every PTC site have set a minimum payout threshold value as $2 at Neobux, or 10$ at YSense etc.
Once your account balance reaches the minimum payout threshold value you will be paid to your Skrill account which is found in your profile.
Note: Never forget to update your Skrill Email Address in your profile.
Some PTC sites payments are automatic and in some PTC sites you have to give a payout request. All payments are processed in 6 Hrs to 6 Working Days.
From there you can transfer the money to your local bank account in your local currency.
Paid to Click Strategy: 3 steps to success
1. Direct Referrals Were Essential For Success!
I can not stress that enough…
If you don't know what Direct Referrals are, let us briefly explain what/who they are and how they can benefit you.
​Direct Referrals are real people you invited to join a Paid to Click site using your referral link. They can earn you commissions when they are earning or spending money at the website.
2. How to get direct refferals?
We recommend making a website and promote your refferal link, and startting as an affiliate marketing Business online. Read more at Creating website with wordpress for beginners. This guide explains everything you need to know from choosing a domain name to customizing your website.
3. Upgrade to Golden Membership.
When you have getten many direct refferals, you upgrade to Golden membership as soon as possible! Because you will get more profits and commissions from refferals. See more "Get free golden membership in neobux".
Avoid doing mistakes!
It was a terrible plan that failed within a few days.
Joining too many PTC sites!
Not have the timeto click at 30+ PTC websites everyday!
Having 0 DR and 0 RR at the websites!
Most of the websites were either a scam, or they turned into a scam soon after. See more list of paying PTC sites recommended by us.
Conclussion, Paid to click is the easiest way to get start how make money with Paid to Click Sites, because you don't require any technical skills to do this job. In PTC jobs you can earn by clicking ads or links provided by the PTC sites. And you can learn the other jobs and can get skilled in it.