Mini Jobs for students is the best way to utilize spare time to earn extra cash without investment. Many students have achieved success in this filed. As most of the mini jobs on internet need high skill and knowledge to get success. As a students, we have enough skills and knowledge to overcome the problems like a simple task. This writing will refer you to earn money by doing mini jobs offers neobux.
The earning from Mini Jobs can be more and easier than making money with paid to click sites.
Mini jobs on neobux:
Basically, Mini Jobs are small and simple tasks for which you get instantly credited into your main balance. To access this feature, sign up to neobux just click on the "Mini Jobs" button on the top.
The objective of the available Mini Jobs is to solve problems ranging from data collection and product categorization to business lead verification, content generation/modification and academic research.
If it's your first time you will be presented with the training mode. You must complete this phase in order to gain payment. Review carefully on the instructions too, each task will have their own procedure to follow. After you have understand what to do, begin to complete the selected task as instructed. Detailed instructions about what exactly your work will be are available on screen. What you need is to follow these details to accomplish the Mini Jobs under a certain time. If you want to end current task or change task, click on the Give Up button on the top.
Do not give random answers. A number of false answers higher than a Mini Job's accuracy threshold may prevent you from completing a Mini Job.
Bonus: Mini Jobs will grant you a commission from your direct referrals earnings. And you will get a productivity bonus for your own work.
For each $1 you earn from doing Mini Jobs you'll get a 12% bonus as a standard member and a 24% bonus as a golden member.
You'll earn 12% from each of your direct referrals earned by completing Mini Jobs.
However, You can do mini jobs to earn some dollars. Then, I recommend you use this money to buy domain and hosting to create website and earn from affiliate marketing.
I finished my work for a Mini Job and I haven't been paid yet. When will I receive my reward?
While usually you will be paid instantly, a slight delay may happen between submitting all the required answers and receiving your reward for your work in a Mini Job. That delay may be as small as 15 minutes or as long as two days after the Mini Job is done.
My answers have been marked as wrong, but they were clearly correct.
CrowdFlower do their best to ensure that each Mini Job comes with the best possible quality control system in place, but things do slip through the cracks sometimes. If you feel that their system has treated you unfairly, then be sure to contest the question on the feedback page.
You may also send them a clear and concise explanation of the problem using the "Help" menu and the "Get Support" link at the top right of the interface.
What is and how do I find my Mini Job ID?
By clicking the "Help" menu at the top-right inside any Mini Job's interface you'll find both your Contributor and Mini Job IDs. For more information, you can visit: FAQ > Offers > Mini Jobs
Take a look at my NeoBux minijobs Earnings: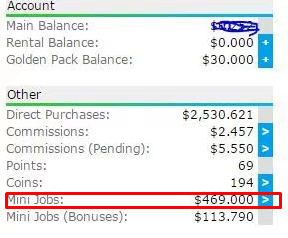 Bank account
At now, you can use Skrill to add fund or withdraw your money from Neobux.
Why we do not refer other mini job sites?
You can might ask why we do not refer mini jobs from other sites such as virtual assistants, data entry jobs, or field agent. It's a good ideal, but some students do not like these due to stressful tasks. And many people ask us about mini jobs at amazon mechanical turk.
"Amazon Mechanical Turk is based on the idea that there are still many things that human beings can do much more effectively than computers, such as identifying objects in a photo or video, performing data de-duplication, transcribing audio recordings, or researching data details. Traditionally, tasks like this have been accomplished by hiring a large temporary workforce (which is time consuming, expensive, and difficult to scale) or have gone undone."
However, there are bad review about Amazon Mechanical Turk like as:
"Now mturk become worst, all requesters left mturk because increase in commission from 10% to 40%. In 2013-2016 boom in work, daily 10 to 20 projects to work, but now 1 project in couple days. I don't know who is head of mturk, he is worst person" (https://www.sitejabber.com/reviews/mturk.com)
Conclussion, Mini Jobs online is the best way to utilize some free time for students to earn extra money by working from home. You can start Mini Jobs on Neobux as you are beginner to the online jobs, Along with this, you can learn the other jobs and can get skilled in it.
Good luck and great earning!
Please share and tag your friends who you think they'll like this post. I greatly appreciate your kindness!